I have seen alot of questions/comments on fans lately and have found a fan that I have been really impressed with that is cheap and stealth. I can only compare it to the Vortex and Panasonic Whisper lines...
Soler & Palau Inline Fans
I can't say enough about the fans. Once again if someone has not read my previous thread with my cab build, these are less money, more compact, and quieter than the Panasonic Whisper Line. I ordered the Panasonic Whisper for the build originally before i read about these on another forum and in HT. I like the Panasonics as i use one in my server cabinet. But once I had both side by side the S&P models i ordered were clearly better in every way so i am returning the Panasonic Whispers even though I will looses a 20% restocking fee.
The Fans are S&P(soler & Palau), they can be found here:
http://www.hvacquick.com/spfnconfig.php?fm=td
This is a detailed PDF on their CFM and their ratings at different static pressures. They also go over mounting in the PDF and exact measurements, but mine dont vibrate one bit. I have them just placed in the cab on a piece of packing foam. The foam is unnecessary though, im just using it because i have it. You will notice in the PDF they dont report sones or decibles. Usually this concerns me that the manufacturer is attempting to hide something. I assure you they are not hiding anything in this case.
Detailed PDF:
PDF-link
--
I ordered them from hvacquick.com but found them real cheap here in the last week at a blowout sale:
Cheap Fans-link
SOLAR & PALAU TD - MIXVENT BLOW FANS TD 200X - POLYPROPOLENE HO (model i use which pushes 478 cfm and is rated really good as far as static pressure is concerened.)
for $130
SOLAR & PALAU TD - MIXVENT BLOW FANS TD 250 STL HSING W/EPOXY CTING 765 CFM 255 WATTS 10" 19.8 LBS. for $175
--
I am also using the Fantec Speedster Speed Controls. Best thing about these is no rewiring involved. Just Plug the fan into the speed controller as it has a grounded outlet on it and its own powercord.
I can not vouch for the td-250 and above but will vouch for the TD-200x and smaller models with the exception of the TD-200 (without the X). I say this because the TD-200 and above have a steel housing and blades where the models I use are POLYPROPOLENE (like ABS Plastic). That is why i went with the 200x over the 200. It is only a few dollars more. You can also trim off the box on the side that houses the wiring to make them smaller, i did not need to do this. Also note they have two sppeds bult in depending how you wire them. I wired one of my 200x on the low speed so i don't ever go above the recommended max on my carbon filter as this would not allow enough contact time of the air and carbon for the filter to absorb the smell correctly.
--
Check out link in my sig if you care to see how mine are set-up.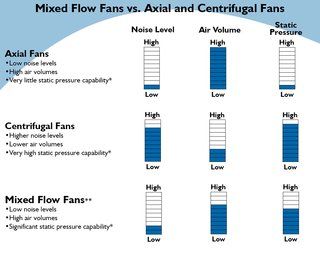 Last edited: